Wheaton Drama, Inc. (WDI), held its annual Colby Awards celebration August 7 at Playhouse 111. The Colby Awards are named in honor of Colby Jones, a longtime WDI member who passed away in 1996. The Awards recognize members for their outstanding contributions backstage and behind the scenes.
A celebration of WDI's volunteers and its 2009-2010 season, this year's Colby Awards evening began with an hour for socializing, cocktails, and hors d'oeuvres. The Colby Committee then presented a humorous skit and song parody written by Jeni Dees. After all of the presentations, attendees had time for more socializing, plus dessert and dancing.
The 2010 Colby Committee was: Ben Aylesworth (chair), Jeni Dees, Jackie Haiser, Aimee Kennedy, and Jo-Ann Ledger.  Julie Kanturek was piano accompanist, Dave Amato ran sound, and Roger Hicks ran the light board. Tony Abrego and Steven Merkel took photographs. Additional support was provided by Tracy Adams, Donna Fletcher, Ish Rios and Leah Rae.
The following local businesses generously supported the Awards this year by contributing appetizers, desserts, or beverages for the evening: Egg'lectic Café, Front Street Cocina, Genghis Grill, Gino's East, Ivy, Malloy's Liquors, Muldoon's, Shane's Deli, and The Bank Restaurant.
Burger King (County Farm Road), McDonald's (Danada), and Taco Bell (Danada) donated ice, which Steven Merkel delivered to the Playhouse.
Desserts were provided by Alicia Flores of A Sweet Thing, Donna Fletcher, Melissa Goyette-Sokasits, and Leah Rae.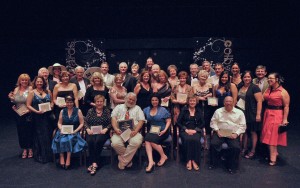 The directors and production managers for each show nominated crew from the season's productions. Awards were presented to the following:
For I Love You, You're Perfect, Now Change:
Tracy Adams (Choreographer)
Bill Donaldson (Set Design & Construction)
Toria Hollyn (Stage Manager)
Andy Kanturek (Videographer)
Genevieve Pastore (Sound)
Berni Raymond, Mary Engle and Barbi Giblin (Set Decoration)
Pam Terry (Costumes Choreographer)
For Oliver!:
Mary Engle (Properties)
Barbi Giblin (Set Design & Decoration)
Melissa Heischberg (Costumes)
Carla Mutone (Assistant Director & Choreographer)
Melissa Goyette-Sokasits (Child Actor Coordination)
Debbie Trueblood (Stage Manager)
Annie Walker-Bright (Hair & Make-up)
For Noises Off:
Bill Boylan (Sound)
Mary Engle and Berni Raymond (Set Decoration)
Roger Hicks (Lights)
Kent Kupcho, Doug Buethe and John Malecki (Set Construction)
Rebecca Poole and Jessica Orozco (Stage Manager & Assistant Stage Manager)
Karen Weber (Costumes)
Sheila Zinke & Carmen Fabrie (Properties)
For To Gillian On Her 37th Birthday:
Ben Aylesworth and John Malecki (Set Construction)
Keith deBolt (Set Decoration)
Mary Engle (Front of House)
Jo-Ann Ledger (Assistant Director & Publicity)
Steven Merkel (Sound)
Genevieve Pastore (Properties)
Jim Van De Velde (Lights)
For CHICAGO:
Tracy Adams (Choreography)
Ben Aylesworth (Set Construction)
Jeni Dees (Hair and Makeup)
Bruce Ebner (Stage Manager)
Gretchen Woodley and Melissa Heischberg (Costumes)
Jim Van De Velde (Lights)
Peggy Young (Set Decoration)
For Sylvia (studio show):
Barbi Giblin (Properties)
Jackie Haiser (Stage Manager)
Kathy Heinze (Sound)
Roger Hicks (Lights)
Pam Terry (Costumes)
The following members were honored with special awards: Cindy Bolds (Children's Workshop); Eileen Gilligan (Assistant Treasurer); Melissa Heischberg (Website); Denny and Dolly Jamieson (Tickets); Chuck Kaufman (WDI Wall of Fame); Jim Liesz and Rebecca Poole (WDI Garage Sale); Steven Merkel (Bill Hamilton Award); Jessica Orozco (Rookie of the Year); Jim Quan (Candlelight Award); Berni Raymond (Clown Hostess); Melissa Goyette-Sokasits (WDI Beautification Award); Pam Terry (Community Connection Award).
Outgoing WDI President Debbie Trueblood presented the Alice Burnham Award, the top honor, to Steven Merkel. Current President Jim Van De Velde presented Debbie Trueblood with two commemorative items honoring her service to WDI during her two years as President.
Wheaton Drama congratulates the award winners and extends sincere thanks to all of the people  who helped to make the 2009-2010 season a success! Preparations are already underway for the 2010-2011 season, which opens in September with the musical comedy, The Drowsy Chaperone.
At play since 1931, Wheaton Drama is a volunteer community theatre organization dedicated to improving the cultural life in the community by providing quality theatre to its patrons and a creative, rewarding experience to its members. New members are welcome and are encouraged to attend a general membership meeting. Meetings are generally held the third Tuesday of every month, and are at Playhouse 111, 111 N. Hale Street in downtown Wheaton.
For more information about Wheaton Drama and its next season, visit www.wheatondrama.org, or call 630-260-1820.