A look at some talented "Scoundrels" rehearsing Wheaton Drama's upcoming musical comedy. Dirty Rotten Scoundrels opens May 25, 2012. Tickets are available right on this website. How about that for convenience?
Jennifer Myers shows how it's done in "Oklahoma?"  If you know the song, you know why Rob Reinalda looks amused! Note: This is not your grandma's musical, but if she's a bit naughty and loves to laugh, it could be! Photo by Steven Merkel.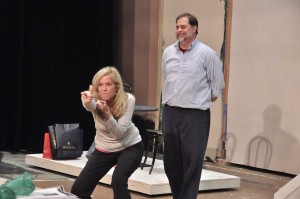 Ken Kaden,  Zach Gibson and Rob Reinalda rehearse. Photo by Steven Merkel.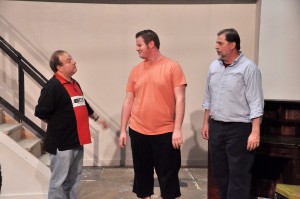 Michelle Ho, Suzanne Compton, Pam Turlow, Julie Rodgers-Baker, and Charmaine Jones rehearse a number. R.J. Ogren's scenic work is looking good, too! Photo by Steven Merkel.