By Peter Lemongelli
 For director Lisa Dawn Foertsch, "Steel Magnolias" is a labor of love, holding a deep, personal connection.
"My mother donated a kidney to my brother when I was 17—a kidney that didn't hold," she says. "My mother has shown me, all my life, what it is to love someone unconditionally, and to really be there for someone, and the show portrays this in all of the women/characters…She's the 'Steel Magnolia' in my life."
Foerstch's family history mirrors that of Robert Harling's comedy/drama, based on his own mother and sister's true story. "Steel Magnolias," staged by Wheaton Drama at Playhouse 111 through April 13, focuses on the special bond shared by a group of Southern women as they support a young woman in her battle with Type 1 diabetes.
Foertsch discloses how much of her mother is truly invested in her direction of the play. "I've seen my mother be stronger than anyone, but I've also seen her more vulnerable, sensitive moments…it just shows me balance," she explains. "You can't have strength without weakness, and you can find that wonderful spot in the middle where you can grow."
She has also been blessed to have a core group of friends similar to the characters in the show, but it took time, she says: "I was a tomboy growing up, so as I grew it was difficult having relationships with women and relating to them, but now I have a true-blue, steel group of women, and I understand and love those relationships."
Foertsch is no stranger to theater. She honed her craft at the College of DuPage in Glen Ellyn and at Buffalo Theater Ensemble, which performed on COD's campus. From there, Foertsch directed and acted in many  theaters, both in Chicago and in Chicago's suburbs.
Last year, Foertsch made her dramatic acting debut at Wheaton Drama in the stunning World War II drama "Full Circle," and she discovered she enjoyed the theater group: "Everyone's so nice and welcoming. … I know that everyone cares about what they are doing—deeply."
Foertsch cares for her production staff with that same depth: "My assistant director (Elaine G. Castro) is my right arm, the yin to my yang—she's a great balance for me." Foertsch says. "My producer (Michael Boyna) is the flower pot that everything grows in."
The storyline of "Steel Magnolias" is a focal point, of course, but the bonds of this special group of women hold special importance for Foertsch and her talented cast: "These relationships, the meaningful relationships we have in this lifetime, these people act as mirrors to us—our strengths, our flaws, they give us a chance to see more clearly and to grow. … There's hardship and loss, but that doesn't stop you. … You can move forward and overcome—find joy again, and even if you feel unloved there's always someone there for you, even though you can't see it."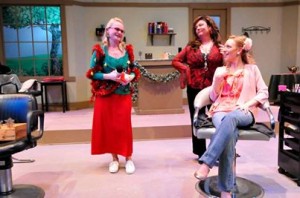 The setting of the play in a beauty salon is also significant, she says: "These women go to a beauty parlor to transform and become more beautiful, but really the relationships in that beauty shop are changing them for the better, in a deeper and more meaningful way."
Foertsch says her cast—Angelicque Cate, Amanda Raudabaugh, JoAnn Smith, Nicolette Lalor, Linda Timpa, and Brenda Scharlau—and the characters they portray are of special importance. 
"See the show for these women, they have come in and put so much heart, so much of themselves into this show," Foertsch says. "The laughter they've had offstage and the building of their friendship together just flow into the audience and can be of great comfort."
"Steel Magnolias" will be performed at 111 N. Hale St. in Wheaton on Thursdays, Fridays, Saturdays, and Sundays from March 21 through April 13, 2014. Curtain is at 8 p.m. on Thursdays, Fridays, and Saturdays. The Sunday curtain is at 3 p.m. Tickets are $13 for Thursday Performances, and $16 for all other performances. Please call 630-260-1820 or visit www.wheatondrama.org for reservations or additional information.