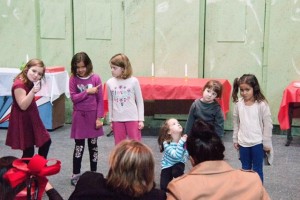 STUDENT ACTING WORKSHOPS COMING TO WHEATON DRAMA 
Kindergarten Through Eighth Grade Classes
A Fun Experience For All!  
Young performers will learn basic onstage and acting techniques while they develop their imagination and creativity.  All children will have a blast as they explore acting through a series of theater and improvisational games.  This ensemble building class will foster each student's self esteem and help him/her become an independent thinker both on and off the stage.
Program instructor Anne Marie Irey has been involved in theater for over twenty years.  She minored in Theatre at St. Mary's College and earned her Master's in Education degree at DePaul University.  Anne Marie is an alumna of The Second City, and spent several years performing improv in Chicago.  Recently, she taught fourth grade at Sacred Heart, where she founded an after school drama program.
Six-week sessions will be offered this winter/spring at Wheaton Drama.  (There is a discount if you register for both classes.)
All sessions will be on Tuesday afternoons at these times:
Grades K – 4:  4:00 p.m. until 4:55 p.m.
Grades 5 – 8:  5:00 p.m. until 5:55 p.m.
Winter/Spring 2016
Session 1: January 12 through February 16 (Make up February 23)
Session 2: March through April 19 (Make up April 26)
Note: Classes are subject to change based on enrollment.
$100 per session per child
$180 per child for both sessions
(Applicants must register for both sessions at same time to receive discount.)
Contact Amy Brockman for more information at
[email protected]  or call 630.260.1820 and leave a message about registration.