Wheaton Drama finishes off their 2017/18 Season with COMPANY; Music & Lyrics by Stephen Sondheim and Book by George Furth. Audiences have given rave reviews since the show's opening on May 25, highlighting the musicality, acting, & heart given by each performer of the ensemble cast of  14 actors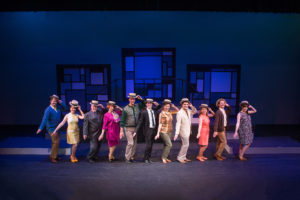 But a show would be nothing without the vision of its director. COMPANY director Pam Turlow shared some of her thoughts about her vision, the material & her hope for audiences in a recent interview.
Speaking of her vision for the show, Turlow shared, "In [this] production, each encounter [the main character] Bobby has teaches him one more thing about relationships. We'll see Bobby grow from a man afraid of really connecting to a man who is truly ready to be vulnerable, to give and receive love."
Turlow chose to set the production in 1970, "at the tail end of the 60s – a decade that reshaped the world and gave us a paradigm shift about relationships." She has collaborated with her design team & dramaturg to immerse the audience in the year 1970 through art, clothing, hair, & movement. Dramaturg Rebecca Munoz also provided background information on the era, available to audiences before & after the show in the lobby.
Turlow's hope for audiences enjoying COMPANY is one of vulnerability & self-understanding. "If you are willing to be vulnerable, to open yourself up to things new and different and (maybe) scary," she encourages, "you might just find that brilliant light inside."
For more info & tickets, visit the COMPANY show page: www.wheatondrama.org/company.