By Mike Frale
Wheaton Drama's upcoming production, Sweeney Todd – The Demon Barber of Fleet Street with music and lyrics by Stephen Sondheim and a book by Hugh Wheeler, is currently in rehearsals, with the cast and crew working to navigate the extremely difficult and famous piece.
Sweeney
Todd tells the story of barber Benjamin Barker, aka Sweeney Todd, as he tries to get revenge against his arch-enemy for the murder
of his wife, Lucy, with the aid of the cheerful and amoral pie shop owner, Mrs. Lovett. As he opens his shop up above Mrs. Lovett's store, he gets caught
between the destined love between his daughter, Johanna, and a naïve sailor, Anthony.
Randy Knott is directing this epic and we had a chance to sit down with him –
What drew you to direct "Sweeney"?  
Boy.  I guess I'd ask "what didn't?"  The music is amazing; challenging, yet satisfying to the ear.  The story is as old as stories themselves.  I love the ambiguity of who the bad guy is, and I love the idea that all of us, if we look into our hearts, probably are capable of the atrocities that are committed in the show.  We certainly, through the play, find ourselves capable of cheering for the guy committing them.  THAT, I find delicious.  My favorite villain in film is Michael Corleone, because his bend towards evil is a choice.  "…Todd" lets us see that, also.  
Is there something you hope audiences will be able to learn from watching "Sweeney"?
I always hope that any show I direct allows the audience to find some part of themselves during the evening.  Even the comedies.  This show, I believe, really looks at things like class, revenge, love, ambition, opportunism, injustice, and abuse of power, etc.  In some ways, it's an incredibly timely piece.  In some ways, it always will be.  
What is a piece of advice you give to your actors as they prepare for this difficult and exhausting piece of musical theatre history?
I want them always to be honest to the moment.  Because this show has so much theatricality, so much singing, so much beauty…it is easy to slip into falling in love with the sound of one's own voice, or of the music.  The audience will, of course, fall in love with that also…but they paid to see the story.  That's what I'm trying to get to.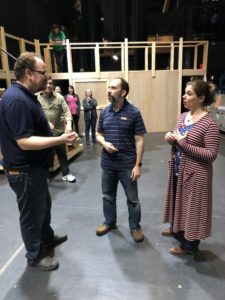 How did you prepare to direct this production in the pre-rehearsal process?
I've spent countless hours discussing, with Julie, the assistant director (and my domestic partner), the characters, the small moments, the big moments, the set, the setting, the time, etc.  I've been studying this show for a year.  The actors have been studying it for 2 months.  As with most projects of this magnitude, one has lots of big ideas.  I have dozens of things in my head about this show, these characters, and deep character dives. One of the things I've come to realize is that my ambition – while never fully put aside – can get in the way of the fundamentals.  Sometimes you have to worry about making sure everyone can be seen, that the set is going to work, or that the props get cleared…and the deeper ambitions…they'll have to wait.  We've still got 2 weeks, though…I'm excited to see how much of that ambition makes it to the stage.
Sweeney Todd will be on stage at Wheaton Drama
from May 24 through June 16, 2019. Performances are Thursdays/Fridays/Saturdays
at 8pm & Sundays at 3pm.
Tickets available NOW at www.wheatondrama.org or by phone at 630-260-1820. Sweeney Todd is presented through
special arrangement with Music Theatre International.