By Elena Dansdill
A show with 23 different actors, a wide variety of costume changes with full 19th century style outfits, and starting mostly from scratch is enough to make any experienced costume designer overwhelmed. But Wheaton Drama's new costume designer for Sweeney Todd – Demon Barber of Fleet Street, Abeline Glenzinki is doing it all, at only age 17. Since March, Abeline has been planning, sketching, researching the period, and watching other adaptations of the show for inspiration on how to create the world of Sweeney Todd through costumes.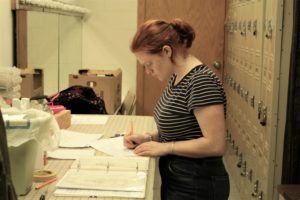 Starting from scratch, Abeline says she's, "terrified but excited" to head the costumes for this show. While still only in high school, she's certainly qualified. She began sewing in only third grade and quickly got involved with costumes and theatre throughout middle school and high school. You might have seen some of her pieces at Wheaton Drama in Elephant Man or Willy Wonka, but this is the first time she's been the sole head of costumes.
It's quite an accomplishment, and the first time someone so young has led such a daunting production at Wheaton Drama. "This is a huge show, from all aspects – the music, the set, the props, and the costumes," say Wheaton Drama President, Stan Austin. "That someone as young as Abeline has so much vision, drive, responsibility and talent is really incredible. What she's been able to create really has to be seen to be believed."
 "My favorite character I've been designing at the moment is Mrs. Lovett," Abeline says, "I'm planning to make or sew most of her pieces."
Taking a glance through her rough sketches, the characters have already started to come to life. For Mrs. Lovett's second act costume, Abeline says she's "channeling a more Victorian look with a super fun red skirt and jacket combo." Even the small snippets of descriptions and color themes on her sketches show her talent and eye for blending traditional Sweeney Todd costumes and her own style. But you can only do so much on paper; the fun doesn't really begin until the actors and dress rehearsals come into play.
Besides having to think about the actors comfortability onstage, Abeline says she's learned a lot more about fully designing a whole show: "You have to consider what the lights and set are going to look like so colors don't clash. You have to decide what is considered a prop and what's hair and makeup. You have to develop an organization system or else you're just left with piles of clothes." The final product is still far from finished, but with only a couple weeks left until opening night, Sweeney Todd is sure to excite all audiences with its thrilling blend of costumes, lights, music, sets, and theatre magic.
Sweeney Todd will be on stage at Wheaton Drama from May 24 through June 16, 2019. Performances are Thursdays/Fridays/Saturdays at 8pm & Sundays at 3pm. Tickets available NOW at www.wheatondrama.org or by phone at 630-260-1820.
Sweeney Todd is presented through special arrangement with Music Theatre International.