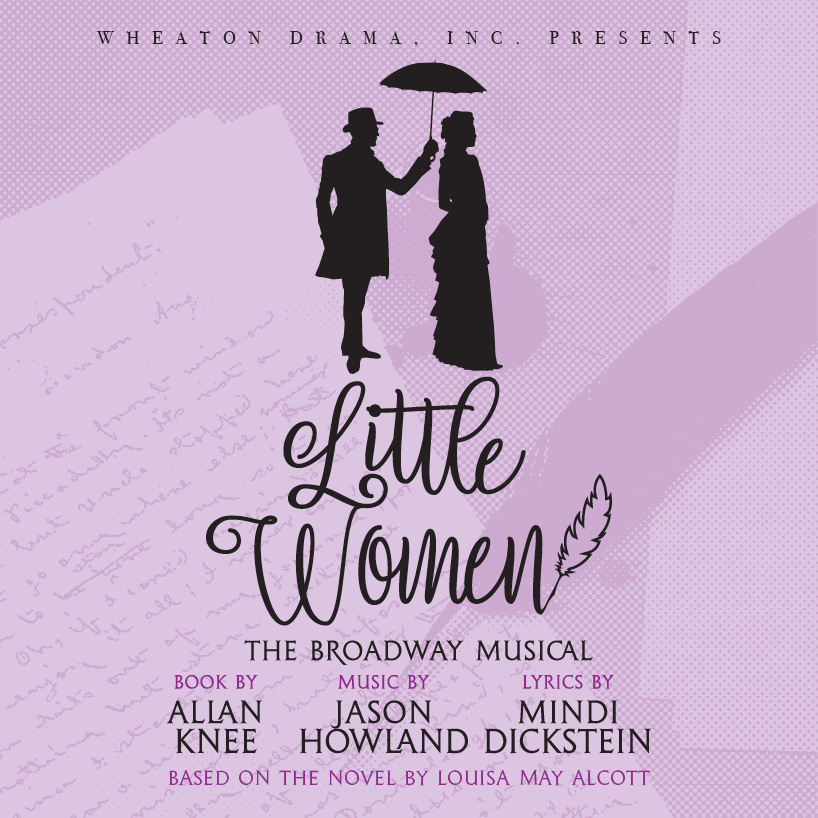 The production team of Little Women – The Broadway Musical is proud to announce the cast and crew of this heartwarming musical coming Wheaton Drama January 17 – February 9, 2020. Based on Louisa May Alcott's classic 1869 novel, Little Women is a musical storytelling of the adventures the four March sisters and their beloved Marmee while their father is away serving in the Civil War. Beautiful music and the well-loved story of traditional Meg, wild, aspiring writer Jo, timid Beth, and romantic Amy, will bring a smile to your face and warmth to your heart this winter.
 The roles will be portrayed by:
Jo: Carolyn Waldee
Professor Bhaer: Kevin Loeper
Marmee/Hag: Meg McGarry
Meg/Clarissa: Morgan Dietkus
Beth/Rodrigo 2: Elisabeth Reuter
Amy/Troll: Mackenzie Grattan
Laurie/Rodrigo: Zack Eckhardt
Mr. Lawrence: Stan Austin
Aunt March: Amy Brockman
Mr. John Brooke/Braxton: Mark Hutchison
Mrs. Kirk: Charmaine Jones
Knight: Michael Albrow
Ensemble/Laurie Understudy: Erol Ibrahimović
Ensemble/Amy Understudy: Abigail Hamilton 
Ensemble/Meg Understudy: Kayla Lollar
Ensemble/Beth Understudy: Allie Plansky
Production staff includes:
Production Manager: Elyse Willis
Director: Krystyn Wells
Assistant Director: Leah Rae Witt
Music Director: Joni Kotche
Choreographer: Katy Smith 
Stage Manger, Set Designer: Bruce Ebner
Assistant Stage Manager: Melanie Johnson
Set Dec, Hair, Make Up, and Scenic Artist: Jim Martin
Light Designer: Jim Van De Velde
Sound Designer: Tom French
Props Designer: Jody Gosain
Costume Designer: Cindy Lonhart
Little Women – The Broadway Musical runs January 17 through February 9, 2020 at Wheaton Drama's Playhouse 111, 111 N. Hale Street in Wheaton, IL. Showtimes are Thursday, Friday and Saturday at 7:30p, and Sunday at 3:00p. Two performances of the show will be performed with American Sign Language interpreters, dates TDB. Tickets can be order online, or by leaving a message with the Wheaton Drama volunteer box office at 630-260-1820.
Presented through special arrangement with Music Theatre International (MTI)